SkyPaver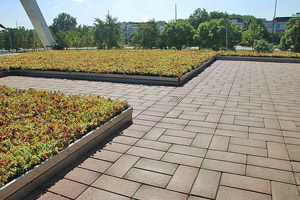 SkyPaver composite roof pavers enable building owners to create durable, versatile rooftop living spaces. Perfect for new or reroof projects, SkyPaver composite roof pavers are available in five colors that can be configured into various patterns and designs. They work well in multiple applications including plaza decks, terraces, walkways and other accessible roof areas.
SkyPaver composite roof pavers can also accommodate any live load, including point loads, making them an ideal complement to vegetative roof systems like SkyScape system. An attractive choice for architects, the elegant, traditional brick look of SkyPaver nicely enhances the beauty of the SkyScape vegetative roof system.
Made from 95 percent post-consumer recycled tires and plastics, SkyPaver Composite Roof Pavers are lightweight and easy to install. SkyPaver and SkyDrain can be installed over any low slope, waterproof roofing system including RubberGard EPDM, UltraPly TPO, and asphalt membranes. They are engineered to meet or exceed ASTM standards and can help earn points in the U.S. Green Building Council's LEED rating system.